Do you know how much time it takes to develop a WordPress website? Even if the world is on your side, it will take at least two to three weeks for an excellent site to grow. But can you imagine how much time it will take to rank that website? Even with the best SEO plugins WordPress, it will take more than three months of hard work to rank the website.
I've worked for three years as an IT head. And when I tell you that it takes more than three months for a website to rank, trust me, this is just approximation. But one thing I can tell you for sure. If you use the best SEO plugins WordPress, it will take far less time because, with these tools, you'll be doing things in an organized manner.
Before we just dive into the best SEO tools, let's look at some of the properties that an SEO tool must-have. You might not get all the features in one SEO tool, which is why it is advised that you use more than one tool to analyze, monitor, and beat your competitor.
What is the best SEO plugin for WordPress?
This is a tough question to answer. Every tool has a unique selling proposition. You cannot name one tool that can save the day for you.
For you to succeed, you must use several tools and analyze data from competitors so that it gets easy for you to beat the competitors with that data.
SEO is more like betting without knowing how things can turn out. What you can do is look at the blind spots of each SEO tool and complement it with another tool.
Is WordPress SEO plugin necessary for business?
The competition out there is unpredictable. You don't know when a new brand can emerge and steal your spot on the search result page.
That's why you must take precautions early on and do what is right for the business. Every business is using some of these or all these tools. So, it is not a choice anymore. To beat your competitor, you must gather as much data as you can and devise a strategy that will help you to compete with the rivals.
With a WordPress, SEO plugin thing will be easy to manage, and you won't have to worry about making an extra effort for doing SEO because these tools will help you to rank faster in search results.
Whether you're a novice user or an advanced one, Rank Math gives you some competitive edge with its easy-to-use features.
The best thing about Rank Math is that it offers all its premium-worthy features for free. Regardless of your expertise, Rank Math will take your game to the next level.
Some of the killer features are mentioned below:
404-page monitoring & redirection
Automated Image SEO will add ALT and titles attributes to every image.
Massive traffic with locally optimized SEO.
24x7x365 customer support.
Easily remove stopwords.
Advanced SEO Audit tool
Internal Links suggestions.
In a short time, Rank Math has made its position in the market. Now it is recognized as one of the most, in fact, the only freemium tool that offers premium features for free.
The website speed is one of the core factors that affect the buying decision of the user. A slow website will drive visitors away while a fast website will attract new visitors.
ShortPixel is a fantastic WordPress tool that optimizes images without losing their quality. This improves the loading speed of the website.
Some of the significant benefits are listed below:
Automatic image compression.
Easy, convenient, and super-fast image compression.
Optimizes thumbnails as well.
Bulk image optimization.
Comparison between old and new images.
The fastest way to improve SEO.
Affordable pricing
ShortPixel does image compression on its own server so that your website server doesn't have to bear the excessive load. And it's not just about compressing images; ShortPixel also compresses PDF documents. This can reduce the website loading time.
And finally, the original images are not lost; they are stored on the server, which can be accessed anytime later.
Do you know that adding a table of contents makes it easier to read lengthy blog posts? This fantastic tool helps in generating a table of contents of your pages, blog posts, and adding custom headers to every blog post.
The tool is easy to use and offers some mind-blowing benefits:
Easy configuration
Show/Hide table to contents with one-click.
Supports smooth scrolling.
Display headings with priority.
Developer friendly hooks that can easily be customized.
Highlight individual sections from the page.
Options to display a table of contents in the theme's sidebar.
The incredible thing about this plugin is that it is an open-source plugin that makes it easy for the developer to customize it as per the need of your website theme.
Additionally, adding a table of contents in your blog posts will increase your chances to show-up in a rich snippet.
You don't need to be tech-savvy if you want to add SSL to your website. With Really Simple SSL, it's a piece of cake.
You just need to install the Simple SSL plugin in your WordPress website, and the tool will detect the settings on your website and make the necessary changes to switch your site on SSL.
Let's look at some of the features that the tool offers:
Automatically redirect all the requests to HTTPS.
Modify the site URL to HTTPS.
An automatic certificate expiration email will be sent.
You'll get detailed feedback on the configuration page.
An option to prepare your site for the HSTS preload list.
In short, the plugin will handle all the SSL issues that your website might face. It will either fix them or suggest to you how to fix them. The tool is an ultimate lifesaver for people who are not that tech-savvy.
A caching plugin that presents HTML files to visitors without processing them from complex PHP scripts.
The core benefit of doing this is that your WordPress blog/website will load faster, and this will add plus points to your website SEO.
Here are some notable features from the plugin:
It will disable gzip compression without creating a fuzz about it.
It'll update your .htaccess file automatically.
Supports WordPress MU in VHOST or non-VHOST.
A 'lockdown' button will store your static cache file and won't delete it when a new comment is made.
Caching is an advanced process, and for that reason, you need an advanced caching plugin. WP Super Cache offers all the features that you need to make caching smooth.
Are you fed-up with all those spam comments? Are you looking for a permanent cure to all those useless comments? Well, the Anti-spam plugin is here to the rescue.
It's a common practice to add spam comments. That's why it is essential to have a plugin that can take care of malicious comments. The Anti-spam plugin does that job well. It eliminates all the extra comments and keeps your site safe and secure.
When a comment posts on your blog, it will be compared to the global spam database, and if anything feels fishy or out-of-context, the comment will be marked spam, and the user will be taken care of.
Some of the core benefits of the Anti-spam plugin are listed below:
Invincible spam protection on your site.
Easy-to-install and straightforward setup.
Automatically detects and eliminates previous comments.
The advanced Anti-spam feature will delete shady comments instantly.
The 24/7 technical support is there to help you with any confusion.
It enables you to get genuine comments and increase traffic on site.
Check and delete the already existing comments on the website.
The tool is fantastic when it comes to protecting your website from any spam comments or malicious content. As soon as a user posts any such feedback, it will be checked from the anti-spam database and taken care of without even showing up in the comments section.
A WordPress plugin designed to eliminate the extra code and optimize the overall website so that it can reduce the loading time of the website.
When you increase the loading speed, it will improve traffic on your website, and eventually, your search engine ranking will improve. A must-tool for startups and novice developers who want to impress their clients in the first meeting.
Autoptimize gives you the following benefits:
Ability to move compressed files in HTML without any problem.
You can easily add Inline CSS code.
Easily ignore the files in the header section of HTML code.
Include scripts that you don't feel like compressing.
Content Delivery Network (CDN) integration
Moving on to a different domain is a common occurrence in your digital journey due to numerous factors. You could be rebranding your website, giving it a fresh new look. You might've struck a new sponsorship deal, merging two websites, or simply starting over – there are quite a few possibilities that require a fresh start.
But when moving domains, you're at risk of losing your traffic and SEO, which is where 301 Redirects jumps in. This tool takes over the redirect process, and in a few simple clicks, allows you to preserve all of your hard work.
Let's dive into the features:
Removes the occurrence of 404 errors
Preserves your traffic, users, and conversions
Ignores bots while real users are whitelisted
Simple data charts and analytics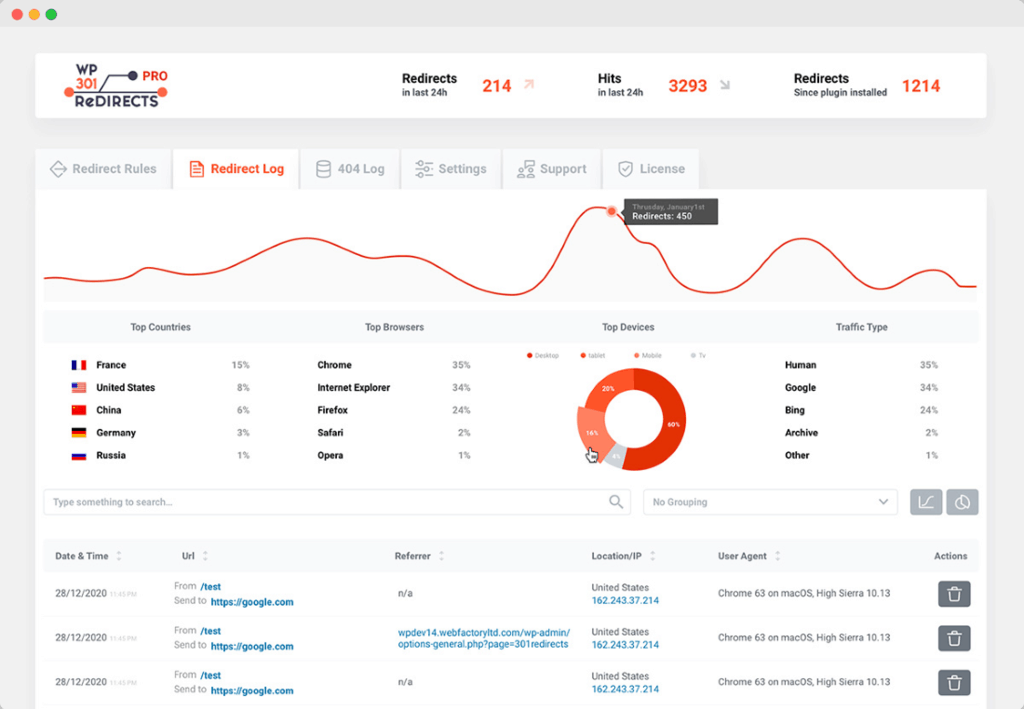 In the end
There is fierce competition out there. If you are not willing to analyze what your competitors are doing and make a solid plan of action, there is a high chance that your competitors will take your market share and have a party.
Of course, no one wants to be left behind. Whenever you search a keyword, you get thousands and, at times, millions of search results. This means that people are already searching for things on the internet.
If you are a smart brand, you'll do what is necessary for you. You'll install these plugins and make the best use of them. Even if you have to pay for some of these tools, it is all worth it.
Business owners, entrepreneurs, digital marketers, and even bloggers use these tools to know and understand the dynamics of their competitors. With these tools, it will be easy to analyze data and make a solid SEO strategy.