I'd say I'm sort of a perfectionist. I want to put my 100% and get the best results possible. And with the multitude of analytic tools available in the world of digital marketing, luck is on my side. By honing in on the metrics that matter, I can see the results of my marketing campaigns on my business.
More specifically, since 87% of marketers use email marketing, I'm focusing more on email analytics. That's because email is the third most effective distribution channel, behind social media and website content. By keeping tabs on the right email marketing metrics, I know exactly how well my email marketing campaign is performing.
I bet you want to do the same with yours.
Before you can learn how to measure email marketing metrics, you need to make a list of objectives. However, every business has a different set of goals. So the metrics I select and track may not be the right ones for you. In order to make your email marketing campaign successful, you will need to begin by identifying what you want to achieve through your emails.
Common email marketing objectives include:
According to marketingcharts.com, generating revenue and communicating with customers are the prime reasons behind email marketing today.
There are dozens of KPIs (Key Performance Indicators) that you can use to monitor and measure the success of your email marketing campaign. But the trick is to go after only the ones that matter to your business goals. Moreover, an email marketing campaign is only successful if it helps your business grow.
To make this task easier for you, I've compiled a list of some of the most important metrics that you should look into.
Key email marketing metrics for measuring email marketing success
1. Open Rate
The open rate simply means how many people open your email. It is one of the metrics that marketers focus on. That's because once an email is opened, they can work on improving other email metrics that are part of your email marketing campaign.
A healthy open rate is a favorable one. It suggests that recipients are eager to read the content you send them. Moreover, there's a greater opportunity to convert them into loyal customers.
What's a good open rate? Anything around 20 to 40% is good. And since there is always room for improvement, try different subject lines to see how simple changes can boost your open rate. For instance, Campaign Monitor quoted that using a subscriber's first name in the subject line can increase open rates by 26%.
A word of caution here, though. Sometimes, open rates can be misleading. Individuals opening an email in the text version will not be registered as an open, or an email seen in the preview pane is counted as an open even though it wasn't read.
2. Bounce Rate
A bounce rate is a measure of how many emails weren't delivered. There are two types of bounce:
soft bounce- an email is not delivered due to temporary issues such as the subscriber's inbox being full or a problem with the server.
hard bounce- the email address does not exist, either because it's been incorrectly entered, deleted, or is fake.
Soft bounces are not a concern. You can resend the emails again later on. However, hard bounces can reflect poorly on your campaign and should be removed from your mailing list. For example, a high bounce rate can damage your reputation and get your email caught in spam.
3. Click-Through Rate (CTR)
A click-through rate shows you how many people clicked on a CTA, image, hyperlink, etc. within the email. So it gives you a more accurate idea of whether your email campaign is aligning correctly with the target audience.
For example, a high rate means that recipients are engaging with the email after opening it, whether that's clicking through to your website, going to an abandoned shopping cart, downloading content, subscribing to a newsletter, etc. Conversely, if the rate is low, people are not interested in interacting with your brand. The click-through rate can be calculated with the following formula:
So what's a good CTR? It depends on the industry you are a part of. That's why you need to consider CTOR for a more accurate picture.
4. Click-to-Open Rates (CTOR)
When looking at your email marketing metrics, you want high open rates as well as click-through rates. But a click-to-open rate can provide a more accurate picture of where you stand. In fact, some marketers consider it as one of the most essential email campaign metrics.
CTOR depicts the percentage of those email recipients who clicked on a link or CTA in your message out of everyone who opened it. It's different from CTR, which shows the percentage of people who clicked on a link or CTA out of all recipients. So CTOR is a better measure of engagement. And to drive your marketing campaign to greater heights, you want people to be more engaged with your emails.
So what's a good CTOR? The numbers can vary but aim for a CTOR anywhere between 20-30%. In fact, segmenting email lists by topics of interest can help achieve higher rates.
5. Unsubscribe Rate
No matter how hard you try, there will always be some people who choose not to receive any more emails. And that is your unsubscribe rate. There are a variety of reasons why people unsubscribe, but the top three are: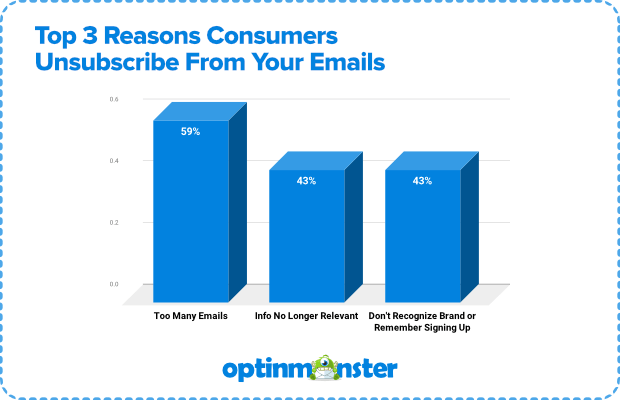 So what's an acceptable unsubscribe rate?
Anything below 0.5% is good. But if you notice that the number starts increasing, you need to reassess your strategy and find out what the problem is in order to keep your current subscribers engaged. Because once a person hits the unsubscribe button, the chances of signing up again are relatively low. However, asking consumers about their email preferences can help reduce the rate.
6. Unengaged Subscribers
Unengaged subscribers are people who are subscribed but never open your emails, interact with you, or respond to any email sent in the past 6-12 months. According to Neil Patel, the average list can have an inactive rate of about 60%. If these subscribers were never active, it's best to remove them from your list. However, if they are merely dormant or unengaged at the moment, you need to find innovative ways to re-engage with them.
7. Engagement over time
Emails that are opened within the first hour have a better response rate, so you want to target your audience base at times when you know you can get the highest open rates and click rates. Tracking engagement over time is one of the email marketing metrics that can help you learn what days of the week and time of day are the best to reach your contacts.
With analytics and information on customer behavior, you can send messages so that subscribers are more likely to open and interact with your emails.  For example, the graph below shows that subscribers are opening emails more at 10 am. Patterns show that the audience generally engages once at a particular time in the morning and in the evening. The timings, however, will depend on the industry that you belong to.
8. Location
An email map can show you where your most engaged followers are. Knowing the location of people opening your emails can help target your subscribers better. Based on their timezones, you'll know the best time to send emails. Moreover, you'll be able to enhance your local SEO strategy, thereby offering products and content that is more suitable for their location.
9. Device type
Knowing what device a person is reading emails on can provide you powerful insights about the reader. An email read on mobile typically means it's being consumed while on the go. Content needs to be concise and should offer more clickable options. On the other hand, an email opened on a laptop or desktop means that the person is in the office.
Moreover, knowing which device can help you format an email that will be more suitable for the screen size. From fonts to images to positioning the CTA, minute aspects of your email can be refined to make your email campaign more responsive. For example, an email that loads slowly or has images that aren't displayed well on a smaller screen may have a higher abandonment.
10. Mobile open rate and Mobile click rate
This is the same as an open rate, except it applies to mobile devices like smartphones and tablets. Mobile open rates have grown considerably over the years. According to superoffice.com, 61.9% of emails are opened and read on mobile devices. With these critical mobile email analytics, you can identify when people are more likely to interact with your emails.
11. Forwarding
Sharing an email has a lot of potential. First off, it's reached a new recipient. And secondly, because it's a personal recommendation, it's more likely to reach a person who will open and click on it.
Keeping track of forwarding can help you find new customers.
12. Complaint rate
Also known as spam complaint, this measures the number of times your emails are reported as unwanted or spam. Though you may be tempted to ignore them, your email service provider keeps track of it. If the rate gets too high, the ESP could block your account.
However, you should monitor both the complaint and unsubscribe rates to ensure that subscribers aren't clicking on spam instead of the unsubscribe link.
So what's an acceptable complaint rate? Though no one wants to have complaints, 0.1% is considered to be a tolerable rate.
13. Return On Investment
In business, there's no point in pursuing a strategy if it's not making money. Knowing how much ROI your email marketing campaign is bringing and comparing them over time can help you stay on track. Moreover, you can evaluate whether it is cost-effective, efficient, and profitable.
14. Revenue Per Open Email
Revenue Per Open Email is a KPI that can help you pinpoint opportunities. For instance, by identifying which type of email generates the most conversions and revenue, you can understand how to optimize your campaign. More importantly, you know which best practices to implement in order to improve your current email marketing campaign.
Final thoughts
Like all other aspects of digital marketing, your email marketing campaign can take some time to perfect. But by keeping a close eye on important metrics and measuring the results, you can optimize your strategies in no time at all.
Knowing where to start and what to keep track of can significantly improve your tactics. Moreover, your efforts will be more aligned with your business goals. And it's often these little things that can help propel you ahead of the competition.
Though we've compiled a concise list of email KPIs to consider, we'd love to hear about others that you feel are equally as important.
Ready to get your email marketing campaign the success you dreamed about?