My father is a hardcore businessman. His doctrine is to invest time and money in any aspect of the business that will continue to boost ROI in the long run. More importantly, he believes it's imperative to provide evergreen content, services, and products yet also retain freshness, interest, and relevance with your consumers.
I grew up listening to his business advice. So it's no surprise that I'm applying his concepts to digital marketing. Creating and distributing relevant, high-quality content for your target audience can help your online business grow. But what if you created content that consistently helps drive traffic to your website and builds brand awareness long after it's written? Now, wouldn't' that be a great way to gain returns from your investment?
My secret is to focus on evergreen content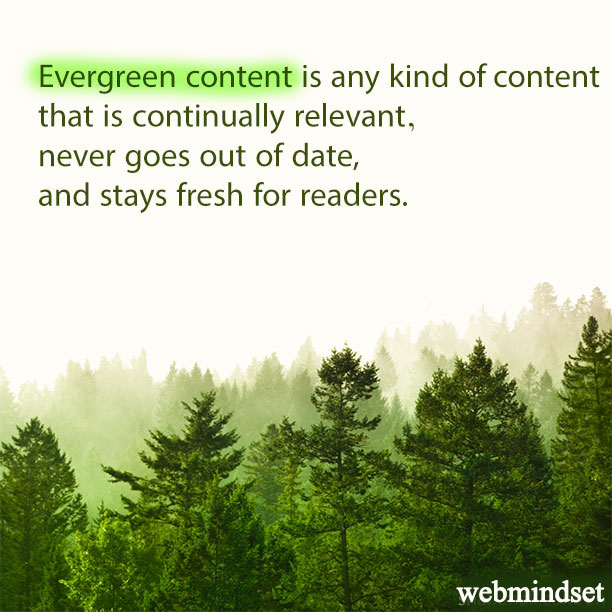 As the name suggests, evergreen content is timeless. It attracts and retains the target audience's attention for longer periods of time. While trending topics come and go, this type of content will keep people interested. Readers continue to search for information about the topic all year round, and possibly even years down the road.
In fact, we've all come across these types of articles at some point. Common evergreen content examples include definition articles, FAQs, listicles, checklists, how-to articles, beginner's guides, etc.
So what characteristics should your evergreen content possess?
Remains relevant
The key to creating evergreen content lies in the fact that there is a continuous demand for it and doesn't go out of style. If an article stays useful, provides value to readers, and resolves their problems, it will still be searched.
Contains high-quality material
The content is interesting and valuable to readers. It can help entice visitors and transform them into a lead or customer.
SEO optimized
Content written with SEO basics such as relevant keywords and phrases, tagging, descriptive headlines, and internal linking, can keep drawing recurring organic traffic. Moreover, it can help your website rank better in search results.
Shareable
To maintain ongoing interest and engagement, content needs to be shareable.
Why should I create evergreen content?
Having a solid evergreen content strategy can bring significant benefits to your business. In fact, long-lasting content can help:
Add long-term value
Build awareness
Maintain high levels of interest in a topic
Get backlinks years after it first goes live
Increase rankings in search
Boost organic traffic
Provide steady, ongoing traffic to your site
Generate more leads
Increase conversions
Improve social shares
Better advertising prospects
Grow e-commerce revenue
Yeah, with all these advantages and more, who wouldn't want to utilize them. However, remember to post a combination of articles, i.e., ones with both evergreen and trending topics.
Want to learn how to strengthen your evergreen content marketing strategies?
Here are evergreen content ideas that you can incorporate into your current content creation campaign to help bring a promising flow of traffic to your site.
Find topics that people are interested in
Choosing a suitable topic that is growing in popularity can be challenging, but not altogether impossible. It begins with the good old keyword research. Spending time and effort on the right keywords can bring in impressive amounts of traffic, search volumes, and revenue to the table. To get an idea of how much information is available about a particular topic, make sure to Google it, or use tools like Keyword Explorer, Ahrefs, and Ubersuggest.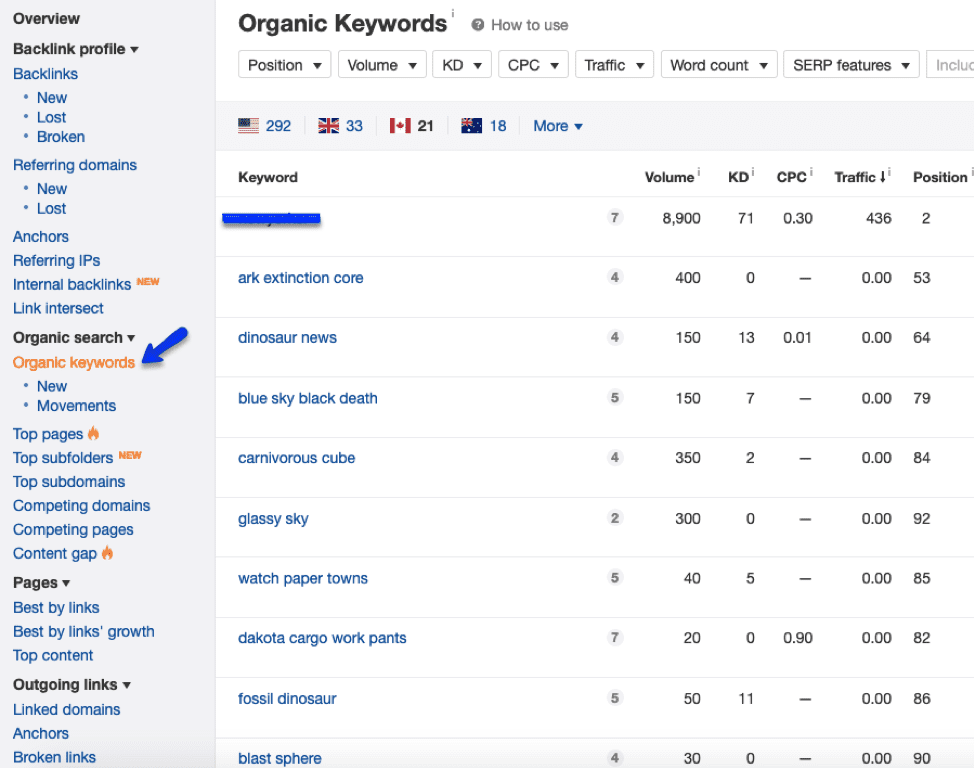 Inspect the competitor's content
You may want to check the content that your competitors are creating. Either post something better than what they have or write about topics that they have not covered. However, always ensure that the content is unique and relevant to the target audience. Some ways that can make your blogs better than the competition and drive traffic to your site include:
Bringing more value to readers- Often, blogs skim the surface of a topic. Make sure you discuss all the concepts in detail.
Keeping content up to date- Even evergreen content needs to be modified so that it stays relevant.
Adding appealing visuals- Without images, videos, and other visuals, large blocks of text are a definite turnoff for readers.
Using proper structure- Besides valuable content, the layout is equally as important. The structure of the blog should be easy to read.
Go in deeper
Many times, people search for in-depth, high-quality material that goes above and beyond a short definition or intro. Providing clear, niche-specific content helps them understand everything about the topic. But for you, this is also a fantastic opportunity to utilize multiple LSI keywords. So a longer piece has a better chance of showing up in search and thereby increasing organic traffic.
More importantly, by creating comprehensive evergreen content such as helpful guides or case studies, other websites are more inclined to link back to your article. Building quality links can up your SEO game, establish a foundation of trust and authority, and drive more traffic to your website.
Incorporate different types of evergreen content
There are multiple ways of presenting evergreen content. I've mentioned only a few common examples here. But there are numerous others that you can experiment with.
Step-By-Step Process
An evergreen step-by-step post needs to focus on the practical utility instead of the mechanics of a program or tool. Consider the following example where the strategy for building an email list is discussed. While an email list building software will likely change in a couple of years or vary from reader to reader, the process will probably be the same no matter what tool you use.

Videos
Today, the latest trending form of consuming content is through videos. Though many people don't consider this to be evergreen, think about how a YouTube video continues to rack up views years after it's first uploaded. The only drawback here is that a video can't be edited after it's published (at least on YouTube). But that only means you need to be extra careful when planning the content in order to make sure it remains evergreen years later.
Ultimate Guides
A guide helps readers comprehend the logic behind a strategy. It covers all the important components of a particular topic. Though it may need tweaking from time to time, it usually does not go out of date that quickly.
Questions And Answers
People always have questions or problems that need to be solved. Depending upon your niche, you need to focus on answering queries that others in the industry aren't. Consider taking a look at Quora to get a better idea of what your target audience is searching for.
Lists
A list can easily become evergreen if it's exhaustive, covers various questions a reader may have, provides inspiration, becomes a constant source of advice, etc. Moreover, they do not require much editing or updating.
Your goal is to present a lot of information in one place with the hopes that someone will leave with at least one takeaway. People will keep coming back to check on the content for reference, so it is a great way to retain customers.
Tutorials
People love doing projects by themselves. Creating a series of DIY tutorials is an ideal way to bring a steady flow of traffic to your site, especially beginners in your niche. Depending on the topic, you need to provide adequate content for both beginners and professionals.
Checklists
Everyone loves reading checklists. It's your way of offering a helping hand to people, especially novices who need comprehensive guidance. Posting a free checklist can attract new readers to your website.
How-to Guides
People are perpetually looking for easy solutions. With the help of how-to guides, you can break down consumer issues and provide answers through bite-sized steps. Therefore, this format can be a great source of evergreen content and should be incorporated into your content marketing campaign.
Discuss personal experiences
According to hostingtribunal.com, there are 1.9 billion web pages. So the internet is already concentrated with information. Writing something that is unique and valuable isn't as easy as it used to be. Needless to say, the quality of your content can impact various aspects of your marketing strategy.
But a great way to create evergreen content is to incorporate original, personal experiences through case studies. Sharing insights, offering helpful tips, mentioning best practices, etc. can help to build trust among readers. As long as the content aligns with people's needs, a case study will remain useful to the reader.
Moreover, you can use this opportunity to establish your brand as a figure of authority. So even though a case study requires a considerable amount of work, by documenting the results and providing facts, you'll have content that no one has. Furthermore, others will want to reference your article. So it's an excellent way of building backlinks and boosting rankings.
Recycle content
Repurposing old content can help keep your posts fresh as well as help them perform better. In fact, it's a way of saving time and resources. Instead of generating brand new content, you can rejuvenate previous content.
But more importantly, recycling content can benefit your SEO campaign. Often merely changing the focus of the content and repurposing it to target another audience can drive new traffic to your website. With the help of content intelligence, you can understand everything there is to know about a piece. It allows you to review and improve your content.
Begin by analyzing a piece and find its weakness, such as broken links, outdated information, etc. Re-do your keyword research and optimize the content. Remember to look into the content's readability, sentiment, SEO scores, etc.
Update content regularly
Even though it's labeled as evergreen, there will come a time when your content will become out of date. So it may be advisable to conduct a content audit at least once a year. However, high priority posts may need one sooner.
An update goes beyond simply keeping information current. Find other aspects that you can improve, such as adding a table of contents at the top of the post or replacing time-dated screenshots with new ones.
Final thoughts
Evergreen content should be an essential part of your content marketing plan. To tap into the potential, you need to work on calling attention to these posts. An easy way to do that is by linking to your evergreen content through other blogs within your website, as well as others. Also, consider leveraging them on social media to attract new readers and customers.
As long as your evergreen content remains relevant, valuable, and useful, your timeless piece will let you connect with your audience. More importantly, it will keep consumers coming back for more.
So now that you know my secret, how about telling me about your successful evergreen content strategies? There are plenty of more ways to use evergreen content to drive traffic to a website. I'd love to hear your ideas and thoughts.