For bigger businesses, the idea of keeping an in-house SEO consultant or outsourcing it may be a daily dilemma. Developing a highly effective digital marketing strategy can be difficult work, especially for larger brands. In some cases, it can take a year or more to ensure the tactic has been thoroughly researched, secure enough resources to execute a broad-ranging campaign and the list could go on and on.
Due to this, established companies or start-ups often face a difficult question; is it better to hire an in-house digital expert to handle this work internally, or does the situation require going 'all out' and hiring an entire agency of professionals?
The decision is important and sometimes expensive. So the following article is here to provide what we consider to be the major pros of either approach (with a slight biased bent towards the latter).
Why should you hire an SEO agency?
An SEO agency, being a think tank of highly experienced, savvy analysts, is coupled with carte blanche access to extensive data and premiere tools. This makes a good agency an invaluable resource for any business. And there is no surprise that a strong SEO company, after all, is consumed with every aspect of SEO day in and day out.
According to the SEO manager at Bruce Clay, Robert Ramirez, an SEO agency is dipped in the industry and remains on top of the algorithm changes as they happen. "Part of an agency's job is to know everything about search engine optimization as it happens. Bruce Clay, for example, spends two to three hours a day reading," he adds.
The 'third party' perspective
Source
It is true that an in-house person will end up knowing your company's processes inside and out, eventually. This can, however, can be more of a liability than an asset, particularly when trying to reach consumers who are likely to approach your brand differently than you expect.
A depth of understanding and advanced technical knowledge is a good thing but effective marketing campaigns rely heavily on 'bridging the gap' between your ability to communicate brand knowledge and customer understanding.
Of course, this tends to be a core competent step towards effective marketing, and therefore, a third part perspective can be highly useful. The collaborative relationship between the agency and your team may ultimately bring about the best of both worlds.
Connections and collaborative efforts
Your project or brand should be seen through the eyes of several professionals, along the same lines of expertise that an SEO firm has. The strategy behind your SEO campaign gets looked at by other managers such as VPs and directors, as opposed to creating your own team.
On the contrary, putting all your eggs in one basket and trusting a single individual to market your brand online is risky. It is a business-fact that without multiple 'experienced' eyes on a campaign, bad experience from lack of knowledge can severely damage your SEO both long and short term.
Much easier to manage
For many businesses, SEO can be very confusing, and many don't need anything but a few call meetings and accurate reports to showcase value. Truthfully, leaving your SEO project in the trusted hands of proven professionals is easier to manage, since reputable SEO agencies are almost always available. It does not require much time out of your day, and you still get all the value.
Special relationships and certifications available
Source
AdWords agencies, or those specializing in Analytics, often have great teams of certified professionals. Google's Partner Programme is another example of this. The certifications can provide benefits, while partnership programs allow early, easy access to beta testing tools and more.
Agencies specialise in more than one area of marketing
Say you are hiring an SEO specialist for a project, with him or her devoting all or the majority of their time and marketing education in understanding organic SEO. That is acceptable for getting most of the work done, but understanding marketing from an Omni-channel perspective can have a complementary effect.
Take the example of AdWords-style influence on SEO: understanding the relative value of keywords, in terms of cost per click or search volume, can help you prioritize keyword targets more efficiently rather than terms that are not profitable or frequently searched.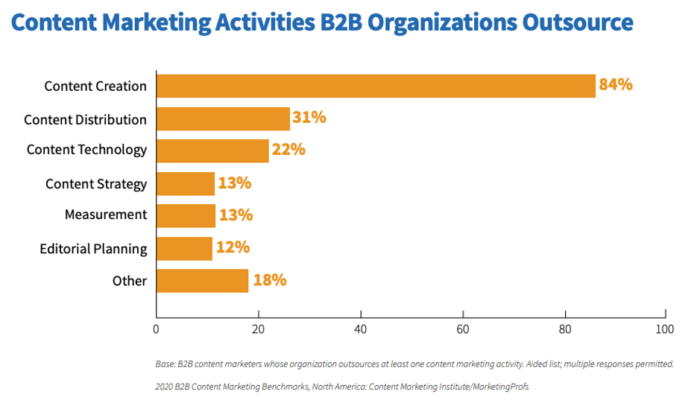 Keeping that in mind, it is also interesting to note that businesses do not just outsource one type of marketing strategy. Ensuring that their multi-channels get blended into an omnichannel approach, every business wants to ensure a uniform application. This is only possible when you outsource to an agency that offers multiple services.
When should you hire an in-house consultant?
An in-house, private, SEO consultant is thoroughly devoted to your business, focusing on your brand 100 percent of the time. Having robust knowledge of your industry, this SEO professional is a go-to expert on engine optimization and your business. Moreover, the in-house SEO will have the perks of working on-site with you and other team members.
Small Business
Moreover, if you talk about the spending, it seems while in the long-run outsourced services provide more value for money, initially in-house is better. Most Small businesses spend only about $1k per year on their SEO. In such a budget, getting an entire outsourcing agency seems impossible.
Therefore, for the business model to grow, you should stick with an in-house SEO.
Familiarity with the brand
Working with someone who understands the brand, its needs, and messaging at a very high level maybe particularly useful if the service-name is uncommon or one that requires a generous amount of technical knowledge, such as the healthcare or pharmaceutical industry.
Compared to an expert researcher, an internal hire is most likely to absorb even the finer points of this kind of information easily over time.
Added value to the business
Starting a digital marketing campaign in this day and age – SEO in particular – is all about effective communication and relevance to the end-user.
A digital marketing expert can teach you a lot about how to communicate what you do, why you do it, and why your brand is preferable over those of your rivals. The more you bend towards these principles, the better you become at channeling your service's values to the clientele – and with it, the path to accelerated business growth.
Why hiring an agency is still better
Source
According to Ramirez, private SEO consulting services have the ability to build relationships with other teams; having a strong influence on IT or marketing. "On the other hand, an agency typically has the ability to escalate things to the C-Suite when teams are unresponsive. If an in-house's words are falling on deaf ears, the agency can be the outside voice that their company will listen to. The agency can be key in making the higher-ups fall in line," he adds.
An in-house SEO can make a lot of sense for companies who are in the process of building brand identity. However, they typically cost more than hiring an agency. The Guardian states, "Companies increasingly look for rounded individuals who can combine analytical rigor with the ability to apply this knowledge in a practical and creative context."
Hiring a specialist is indeed equivalent to hiring an entire agency in one person; you will have to pay more for all that knowledge and experience. Education, essential SEO tools – the costs start adding up when you bring a full-time employee on board than some hired guns.
In the end…
Every business has altering dynamics, and the final decision comes down to the particular needs of the intended project. At the same time, understanding the specific benefits it can bring to your business is very important.
Time-sensitive branding may not allow for the massive training needed to get a new employee 'up to the SEO mark.' In other cases, even if you intend to hire an agency, it may be convenient having someone in-house managing at least the digital side of marketing. This helps ensure that somebody on your team is overseeing everything.
So, perhaps the question the answer we posed at the very beginning is a combination of both – a hybrid model of both internal personnel and outsourced help.