Twitter was the pioneer of social media hashtags, but it was Instagram that put on the real show. Nowadays, marketers are always on the edge of their seats, wondering how to up their hashtags game, focusing especially on their Instagram hashtags.
It isn't only about following the crowd or hot topics. Hashtags help you to categorize your content, make it discoverable, increase engagement and amplify brand awareness. However, covering your basics is always the smart move. As in, before you leap onto this wagon, throw light on the following questions:
Which hashtags will lead followers on your page?
What are the most popular tags in your field?
How many insta hashtags do you put on a single post?
Unveiling the secret formula for a successful Instagram hashtag strategy
Without a keen knowledge of how the most popular Instagram hashtags work, your entire campaign might shut off. Let's look at the example of a hashtag blunder by the PR Team of Susan Boyles:
She was a runner-up in the 2009 edition of Britain's Got Talent, who reclaimed the social media spotlight for her 2012 album release. Her team came up with the hashtag #susanalbumparty. Not many people read it as "Susan Album Party," and so the trolls went crazy.
The point being, there is no margin of erring when it comes to expanding through Instagram.
Given that you're here on this page, we assume you're looking for ways to spike your Insta score. Let's dig in to discover ways that will help you curate a flawless Instagram strategy:
Focus on your research
Analyzing top Instagram hashtags before using them is imperative. The more relevant hashtags you use, the higher are the chances of tapping into the right crowd. Depending upon the goals of your venture, here are some research techniques you can use:
Study relevant Instagram hashtags
Check out hashtags related to your line of business. One way of doing this is to opt for an Instagram hashtag search. Click on the magnifying glass icon and select "tags." Then, enter your Instagram hashtags in the search bar one at a time.
The feed that appears will tell you how many posts exist with that hashtag. It gives you ideas of more related tags you can deploy to engage with your audience.
Pro tip – scan search results regularly and keep a tab on hashtags that are likely to go popular in the future.
Scrutinize target audience
Instead of throwing hashtags randomly across the posts, it would be wiser to pin down an aligned approach. Find out which hashtags your audience is currently using and insert them into your posts. There are also a couple of highly recommended Instagram hashtag generator tools available online.
Remember, the best hashtags are those that speak your customers' language.
For instance, there are hundreds of beauty-related hashtags like #mermaidhair or #coloredhair that speak directly to people looking for related ideas.
Try to look beyond the number of results and avoid the overused tags. Because, the narrower the scope of each hashtag, the higher are the chances that your post will hit the like-minded audience.
Pro tip – try using long-tail keywords to punch the right audience buttons.
Follow industry leaders
Often, brands avoid following industry leads as they think it will put them out as copycats.
Yet on Instagram, the rules are different. You must check out the hashtags used by influencers and brands of the same field. They have amassed hundreds of thousands of followers whose interests align with their niche. While evaluating their best Instagram hashtags, you will find some new ones to add to your arsenal.
Pro tip – There is no problem using more or less the same hashtags as top brands. Just make sure you adhere to your brand identity.
Learn the art of hashtags
Integrating hashtags on Instagram requires exploring multiple factors. There is a lot of research out that will help you boost engagement on each post.
Use a sufficient number of tags
Your crafting of the post and addition of hashtags depends upon the study you are relying on. The best number of hashtags in each post ranges from 5 to 30. According to a TrackMaven analysis, using 11 hashtags in each post is optimal to boost engagement on Instagram. As for stories, they have allotted a limit of 10 hashtags.
The key is to play by the norms. Try to lay a finger on what's hot and what's not. For example, as the way people work out these days has modified due to COVID-19, Nike Los Angeles has used #playinside hashtag to feature local people being active in their homes.
Pro tip – Being specific with hashtags narrows the pool of target customers. Keeping tabs on viral content marketing strategies often helps during this endeavor.
Use Daily Hashtags
Daily hashtags remind your prospects about your existence. It keeps them in the loop and makes them aware of your latest ideas. Instagram hashtags for followers' everyday inspiration is the best way to stay atop the ladder.  For instance, you can use #MotivationMonday, #TravelTuesday, etc. to provide tidbits of quality information to your audience.
There is plenty of resources out there that share how you can get creative with each day of your Instagram activity.
Pro tip – Go for keywords that inspire people to read the entire post.
Hide Hashtags
When you've spent time studying how many hashtags on Instagram bring positive outcomes, your next goal is to ensure you're following ways that will make your hashtags less visible.
In a recent study, SocialInsider examined 650,000 Instagram posts to determine how the use of hashtags affected their performance. They revealed that posts with 7 or 30 hashtags hidden in the caption got the most engagement. In contrast, when a post is brimming with hashtags, they often seem to be out of place, spammy and cluttered.
You can hide hashtags using either of the two methods:
In caption
You can use hashtag inside the caption without being prominent.
At the bottom of your caption, tap "Return" or "Enter." In case it is not visible, press 123 to bring it up
Enter a punctuation mark (a bullet, dash, or period), then hit "Return" again
Repeat steps 2 to 4 about three times
Instagram doesn't display more than two lines of a caption unless a viewer presses "more." Even then, your hashtag stays apart from your caption, so it doesn't distract the readers.
In comments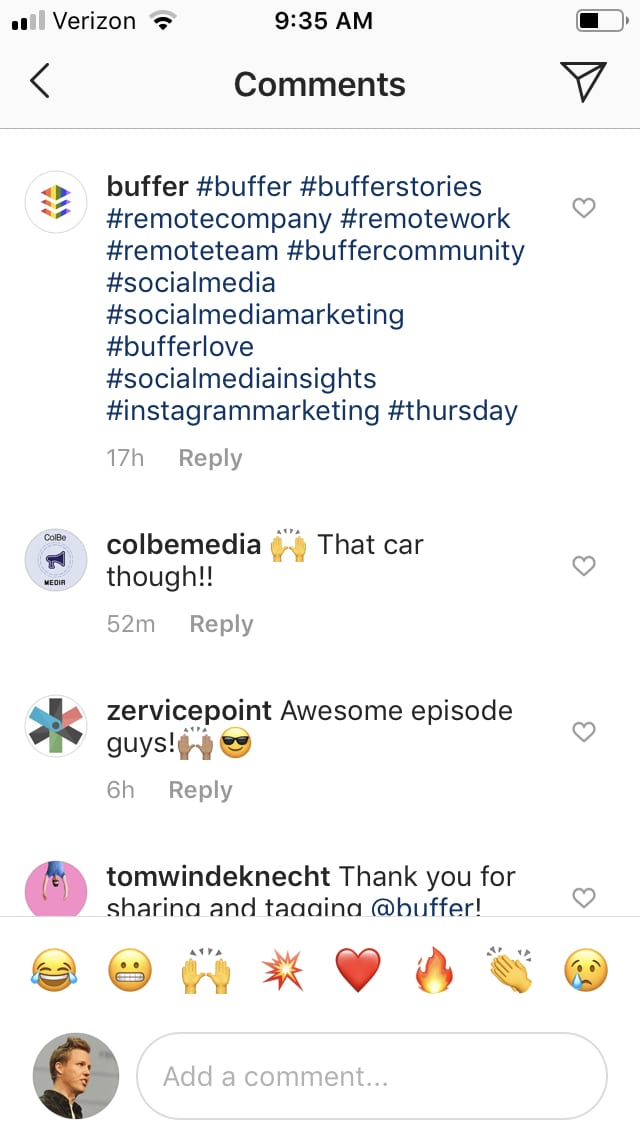 You can also hide the tags in the comment. Here is what you can do:
Write your usual caption without any tags
Next, click on the speech bubble icon under the post to leave a comment
Enter your hashtags and then tap "post."
Once your post receives comments, the one with tags will hide up there unless someone clicks the "view all comments" button.
Pro tip – Catch readers' attention right at the beginning (through visuals or catchy phrases), so they won't scroll further.
Use Niche and Custom Hashtags
Once you are clear on how to use hashtags, your next task is to awaken your creative knack.
It is the eternal crisis of online advertising: should you use a popular term with the broadest possible reach and a lot more competition? Or, should you use a word specific to a smaller niche but people who readily convert?
The answer is BOTH!
Relevant custom hashtags keep you on the map. Meanwhile, integrating niche or location-specific terms allows you to stand out for target customers. Having a professional Social Media Marketing team up your sleeve will help you to pinpoint all the keywords that must go along your Instagram campaign.
Below are a few things you must know about the major types of custom hashtags to design an effective strategy:
Niche Hashtags
These hashtags enable you to connect with the target audience. They work wonders for ventures that are small or medium in size, allowing them to make their mark in the pool of industry hotshots.
Pro tip – focusing on niche hashtags is a skill you should learn. For example, the hashtag #VintageBlackWatch will reveal fewer results as compared to a simple #VintageWatches.
Branded Hashtags
These represent your brand. They are specific to your company, and significant businesses can enjoy a hashtag with merely their names. For instance, Disney uses #Disney for many of its social media announcements. However, a local amusement park doesn't have this luxury. If you are a local setup, you can work on it by studying how do you make a unique hashtag.
Pro tip – Create a motto that represents your brand and figure out if it will resonate with your audience.
Community Hashtags
This is one of the best hashtag strategies that will allow you to max out your local reach. It uses keywords specific to the community you're trying to entice. Hence, if you want residents of Seattle to notice your brand, you can create tags like #SeattleBeauty or #SeattleTech.
Pro tip – Make sure your posts and keywords strike the right chords. Learn tricks on how do you find out what is trending to produce a valuable post each time.
Wrapping it up
Instagram hashtags have extreme potential to expand your reach beyond imagination. It is the ultimate gateway to compel the prospects, bringing them right inside the doors.
Now that you have these tips in mind, we believe you've gained the perspective you were looking for.
In case you want to add something up, feel free to leave a message in the comments section.
Image sources:
https://wpcdn.keyhole.co/wp-content/uploads/2016/03/SusanBoyle.jpg
https://flothemes.com/wp-content/uploads/2016/08/interactionsbyhashtagmore1k.jpg
https://flothemes.com/wp-content/uploads/2016/08/branded-hashtags-2015-Instagram-stats-how-to-use-hasgtags-to-get-more-likes.png