Tap, tap, tap!
From selection to delivery, that's all it takes. For me, this is a Godsend.
As a working mom, I've fallen in love with mobile commerce. Shopping in between calls and paying bills on the ride home not only saves a considerable amount of time but also makes life that much easier.
The cherry on top is how my preferences and previous purchase history are stored on m-commerce platforms. Recommendations and suggestions from my favorite brands significantly enhance my shopping experiences.
Mobile commerce is on the rise
M-commerce refers to all transactions performed on mobile devices, such as mobile banking, money transfers, and shopping. On average, mobile commerce has witnessed a 33.8% year-on-year increase since 2016.
And this trend will continue to grow. COVID-19 has driven people indoors and online. According to research carried out by PYMNTS,  consumers are 30.6% more likely to make online purchases in 2020 than last year. The study also noted that the use of mobile devices to enhance in-store experiences increased from 49.6% to 72.1% during the same period.
And since mobiles are popular for supporting internet browsing, shopping on them is only natural. Developers know that mobile commerce optimized sites will facilitate users to shop on the go. Therefore, the following value-added features are essential:
Ubiquity
Convenience
Instant connectivity
Personalization
Localization of products and services
So while most people I know are complaining about how COVID-19 and the restrictions that have followed suit, I'm relieved that more online shopping options are blooming everywhere.
However, at the same time, I realize that for retail business owners, the pressure is. The pandemic has altered consumer preferences. And the reliance on e-commerce is increasing as consumers and competitors are all online.
But businesses know that adding new digital capabilities to meet customers' demands is only the beginning. In order to succeed, they need to offer a flawless online experience that caters to consumer demands and preferences- and that is on mobile devices.
All you need to do is optimize your website for mobile commerce
Overwhelmed with what all this entails? Don't worry; here's a list of features that will fast-track your efforts:
1. Improve loading speed
Data speeds and internet connections on mobiles can sometimes be slower than on desktop. A slow-loading website not only dampens CX but can also negatively influence your bottom line and SEO efforts.
A one-second delay in page response times can result in a 7% reduction in conversions and thousands of dollars in revenue. 53% of mobile users abandon a site that takes more than 3 seconds to load, states marketingdive.com.
Here are suggestions on how to make every second for your consumers worthwhile.
Compress images
Optimize CSS and JS files
Improve server response times
Load important content above the fold first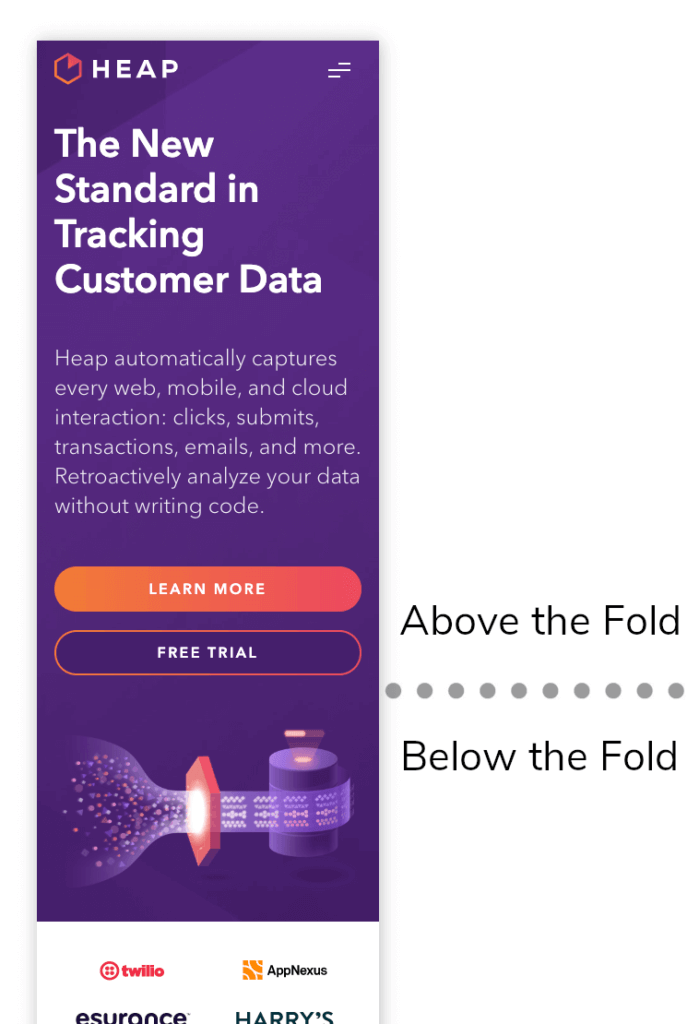 2. Optimize CX
Customers using mobiles expect a faster and more intuitive experience. Make browsing simple for your customers so that they are more tempted to buy. For example, the design elements should not hinder the browsing experience.
Elements that can enhance a user's ex[erience include:
A fixed navigation bar stays in place while users scroll through your website.
A search option that helps users find items effortlessly.
Fonts are easy to read without the need to zoom.
Pages easily connect to other pages with mere clicks.
Clear product images and product description listings using bullet points
Source: GAP
Features like these allow consumers to view important information as they browse products. It helps convert visitors into buyers.
3. Personalize experiences
Business owners know that adding a personal touch to customer interactions helps drive conversions. And m-commerce is no different.
According to the State of the Connected Customer report, 63% of Millennials and 58% of GenX will share personal data in exchange for personalized offers and discounts. So all you have to do is ask. By utilizing personal information, previous search history, geolocation, etc., you can create personalized offers that will be hard for your customers to ignore.
On the other hand, you can enhance their online shopping experiences, match product recommendations to suit their needs, and boost customer loyalty. 80% of consumers agree they are more likely to interact with brands that offer personalized experiences.
Looks like a win-win situation.
4.Add that notorious 'Buy' button
Your customers have a short attention span and are already distracted with push notifications from other apps, texts, phone calls, and whatnot. How can you make them focus on your m-commerce site?
Make your offers hard to ignore with the help of bold CTAs that:
Are short. Customers know exactly what to do.
Stand out on the page. Use enough white spaces.
The style and color should be attention-grabbing.
Adequately sized. People can easily tap on it.
Add urgency. 'Buy Now' can create a sense of urgency and increase conversion rates up to 332%, says HubSpot.
Place it above the fold.
Customers will be browsing on your site. A clear 'Buy' or 'Add to Cart' button ensures that they can quickly progress to the checkout.
5. Streamline checkout
Simplifying the checkout process can help maximize sales. Anything that slows it down or distracts a customer from completing a transaction can hurt your bottom line.
In fact, you'll be surprised to learn that businesses lose 23% of customers because of lengthy checkouts. Asking for additional information or requiring customers to create an account can dissuade them from completing a purchase.
Even better, allow customers to click on items and head straight to checkout. Offer multiple payment options, such as Apple Pay, PayPal, Visa, or mobile wallets to facilitate the buying process. Auto-completing data on forms speeds up the process too.
Related read: Increase Your Conversions By Optimizing Your Cart And Checkout Page
6. Integrate with social media
According to Statista, 3.6 billion people are using social media. And most of these are using a smartphone to access it. So you need to ensure you integrate social media platforms like Instagram and Pinterest.
Since both are image-based platforms, it's easier to attract and guide customers through the sales funnel with social selling. Tapping on images helps offer information such as brand and price.
Pinterest uses Rich Pins and Buyable Pins to show the price and availability of products. On the other hand, Instagram allows brands to tag products on Shoppable Posts. Either way, people can complete purchases instantly directly through social media – on their mobile phones.
7. Cater to an omnichannel online experience
Consumers want the freedom to change their minds and interact with brands across multiple channels. In order to adapt to this, your site needs to perform on any device, whether that's on mobile or desktop. And this is easy if you create a responsive design. The site optimizes its appearance depending upon the size of the screen. More importantly, it will make your site more mobile-friendly without limiting access to any information.
As an entrepreneur, you should also ensure your customers have the same personalized, omnichannel experience across all platforms and locations, whether that entails social media, email, or in-store.
But what is more interesting is that consumers are increasingly more dependent on their connected devices. The use of mobile phones to look for discounts while shopping in stores increased from 46.6% to 54.2% this year alone. This indicates that consumers are more concerned about savings in the face of the uncertain economic climate.
8. Localize your website
Mobile commerce enables brands to interact with consumers from any location. You'll see people pull out their smartphones to find information about a particular business, such as the location of a nearby outlet, customer service phone number, etc.
What are your customers searching for on your website? The easiest way to find out is to use tools like Google Analytics and see how mobile visitors interact with your website. Display the information clearly so that your customers can find it on the homepage instead of having to search for it elsewhere.
Moreover, it helps to adapt your website depending upon the location of your customers. According to unbabel.com, 55% of global consumers prefer to purchase products from websites offering information in their native language. The following website offers a different online experience depending upon which country the consumer resides in (India, US, or the UK). Elements such as language, pictures, prices, dates, and currency help localize content. This builds a deeper connection with users and improves the likelihood of a purchase.
Source: Samshek
Final thoughts
The pandemic is merely setting the stage for how businesses will need to operate in the future. While shopping online is one of the major considerations, business owners already know that mobile is the future. Google's mobile-first algorithm update in 2015 is proof of this.
Your only option as a retailer is to convert to a mobile commerce platform. For many entrepreneurs, it's the light at the end of the tunnel.
Image Source:
https://cdn.thegood.com/wp-content/uploads/heap-above-the-fold-1-699×1024.png
https://storage.googleapis.com/morphl-static-assets/blog/wp-content/uploads/2020/03/product-recommendation-in-ecommerce-stores.png
https://cdn.vox-cdn.com/thumbor/S9oAHQxDZl4loQbrzKdXdnH-mSU=/1400×1400/filters:format(jpeg)/cdn.vox-cdn.com/uploads/chorus_asset/file/9396085/IMG_8772.JPG