Are you a blogger? If so, you are certainly not alone. As per Growth Badger, in 2020, there are over 600 million active blogs around the world. Yet, I have noticed that most bloggers aren't able to reach a broad audience. Maybe because there are unaware of the things a blogger should do after hitting the publish button!
And without the proper tactics and strategies, you cannot survive in the increasingly saturated industry.
After all, as per Statista, the number of bloggers is increasing with every passing year. Between 2010 and 2020, bloggers in the USA increased by a whopping 10 million. To make sure that you are among the bloggers that make it big in the online world, there are specific steps you must take.
7 Things Blogger Should Do To Attract Audience
Writing a quality post is not enough. There are seven golden rules you should follow upon hitting the publish button. Today, I will discuss each step in detail so that your next post is a success.
1. Ping it!
What is the point of updating your blog if no one gets to know about it? This is where pinging comes in. This technique allows blogs to notify different servers and search engines that their blog is updated.
The XML-RPC-based push mechanism helps boost content visibility on the internet.
There are many websites that will allow you to do that for free, and if you are using WordPress, they have this option of sending automatic pings to search engines every time you update your blog.
If you are using Ping-O-Matic, to send pings to blogs, news websites, and search engines, all you have to do is to add your blog name, URL of the home page, and feed URL; it will send your update to all the top blogs, news websites and search engines.
2. Use Social Media
According to Statista, there are 3.5 billion social media users in the world. Additionally, as per Optin Monster, 95.9 percent of bloggers leverage social media platforms to promote their blogs.
Considering the vast reach of the different platforms, it is easy to understand why they do so. Using social media is among the necessary things a blogger should do after publishing a new post.
Once your post goes live, the next thing you should do is to Tweet about it on Twitter. Then, share your article on platforms like Facebook and LinkedIn. Add a story on your Instagram, redirecting your Instagram followers to your new blog post.
This will help your followers know that your blog is updated, and if they find it interesting, they will share it with their circles by re-tweeting, sharing, or tagging others. This way, you'll be able to attract an audience.
Here is an example of how WordPress promotes its blogs on Facebook.
3. Keep your subscribers updated
If you do not have the option to subscribe to your blog, you are making a huge mistake there. Use Feedburner to allow visitors to subscribe to your blog and notify them whenever you update your blog.
By keeping your subscribers updated, you can convert them into loyal readers and later into advocates of your blogs. Such subscribers can also help you build an engaging community by commenting on your blog and suggesting changes for the better.
However, the key is not to bombard them with updates. If you do so, you will end up annoying them, leading them to unsubscribe from you. Don't send more than two updates per week.
Also, make sure to draft enticing headlines for your push notifications. Among all the things a blogger should do, a lucrative headline is ideal for improving content visibility.
4. Send customized emails to the people/blog you mention
Link building is imperative for the success of your business. As per Aira, 52 percent of marketers think that linking a brand can help boost organic traffic.
Why does link building matter? Well, firstly, external links, and brand mentions help illustrate your blog's legitimacy. Secondly, it increases the chances of your blog getting backlinks as well.
Go the further mile and send a customized email to people and blogs you mention. Let them know that you have added their name in the post and a live link to the post. It is also recommended to request them to pass feedback about the post and also share it with their circles.
Emailing the people you have mentioned in the blog post will introduce you to a new audience and give you a chance to increase your blog traffic by encouraging them to subscribe to your blog. It will also increase the chance of generating backlinks.
5. Find similar blogs
Use Google to quickly search for blogs that are related to your topic and are ranking on the top. Send outreach emails to the concerned blogs, asking for their feedback on your post, and asking if they are willing to share your content within their circles.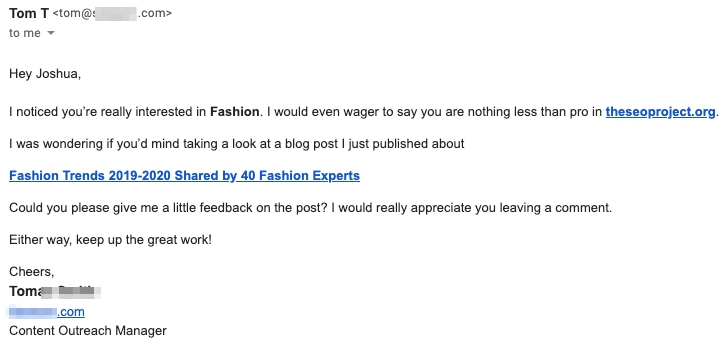 While it is harder to get established blogs to do so for you, blogs that are starting out will likely be much more welcoming. The best way to get your content recognized for high ranking blogs is illustrating your content as being relevant to their postings, thereby asking for backlinks.
This activity will help you cater to more audience for the blog post, plus some good quality links from diversified sources.
6. Competitor analysis
To know how to defeat your rivals, you must know their strength and weaknesses in the first place. Merely writing great content won't help. Instead, you must also keep an eye on your competitor to see what rank they hold on high ranking keywords.
You can then proceed to either opt for keywords that they rank low in or see which content has worked best for them and use the insight to get better reach and ranking, with lesser effort. Analyze their backlinks and target the same websites for your link building activity.
7. Industry Roundups
For every niche, there are certain bloggers that cover the overall industry. It is common to find "10 Best" posts around the internet. Buzzfeed is mainly known for it.
If your blog can be reflected in such industry roundups, you will automatically get better organic reach. Why? This is because it allows you to leverage the traffic of another blog. It also improves your ranking via effective link building.
Do your research and identify the people who work on roundup content. Get in touch with them via email and let them know about your post and why it should be covered by them in their weekly or monthly roundups.
Ending Remarks
There are many other things a blogger should do to boost their organic reach. But, these seven factors are the critical ingredients for the success of all blogs. They will surely put you on the map.
While using these hacks, always ensure that your piece is actually worth the effort. The quality of the content is the backbone of all blogging efforts.
With a great post and the right tactics, you are ready to bring more traffic, links, subscribers, and possible leads for your business through your next blog post. Good Luck!