Customers are the essential pieces of your business puzzle. They help you remain competitive and profitable. But that also means you need a steady stream of traffic to your website in order to stay viable in the digital landscape.
With a fair share of customers beginning their buying journeys on a search engine, it seems pretty obvious that digital marketers are focussing on SEO. According to research by BrightEdge, 53.3% of organic traffic comes from search engines like Google, Yahoo, Bing, and others. In fact, it is considered to be a major traffic driving channel.
But should SEO be your only traffic driving channel?
If you're looking for a one-word answer, I'll give it to you plain and simple.
No.
Before you break out into a sweat, give me a moment to explain.
SEO can be tricky
Let's be honest here. SEO campaigns can produce great results. They can improve online visibility, increase traffic from organic search results, and boost revenue. But it also means that strategies must be spot on. And that can be challenging at times because algorithms are constantly changing.
Every industry is different
The above statistic is a mere generalization of traffic directed from search results. Each industry produces different results depending on what techniques are used to drive traffic to the site. Options include organic search, direct /paid ads, referred/ email, and social, among other things.
For instance, organic search traffic accounts for almost 55% of traffic to automotive websites, while in the news, weather, and information sector, it is much lower, 35%. So some industries can gain a lot from SEO, while others should tap into other traffic generating techniques.
Web Traffic Sources by Industry:
You're missing the other half
Even if you take the general statistic provided by BrightEdge where 53.3% of organic traffic comes from search engines, it is only claiming half of the website traffic. That means you are missing out on the other half of the opportunities to drive traffic to your site.
Instead of simply focusing on SEO, let's look at some other secrets
By combining other avenues into your current marketing strategy can help generate more comprehensive results. Ideally, businesses need to find ways to expand their reach and drive more traffic. The question now is how can you get people to notice you in the overcrowded digital landscape.
And this is exactly what we will be discussing in this blog.
So what other marketing channels can drive quality traffic?
Besides SEO, you can use multiple inbound marketing channels to bring qualified traffic to your website. Just remember that the objective is to attract humans, not links. And for that, you will need to invest quality time and effort to build a positive name for your brand. Techniques typically vary from industry to industry, so make sure to choose the right traffic driving channel for your business.
Here is a list of some ideas to help you get started on the right path:
Continue your blogging efforts
This is one of my all-time favorites. Not only does this channel help attract a targeted audience to your site, but when done right, it is one of the easiest ways to build a community around your brand.
According to 99firms.com, 77% of internet users regularly read blogs. And that is why 55% of marketers state that blogging is their top inbound marketing priority.
Yes, we all know that blogging is essential. But does it offer results in the form of traffic and conversions? That should be your first question when implementing any strategy. Businesses that blog witness twice as much email traffic as businesses that don't quote Oberlo.
The internet is overcrowded with content- there's a new blog published every 0.5 seconds. So, it's okay if a blog doesn't produce results in traffic and conversions. As long as you post valuable information, you're still helping to develop a good brand image.
Here are some effective content creation strategies that produce strong results: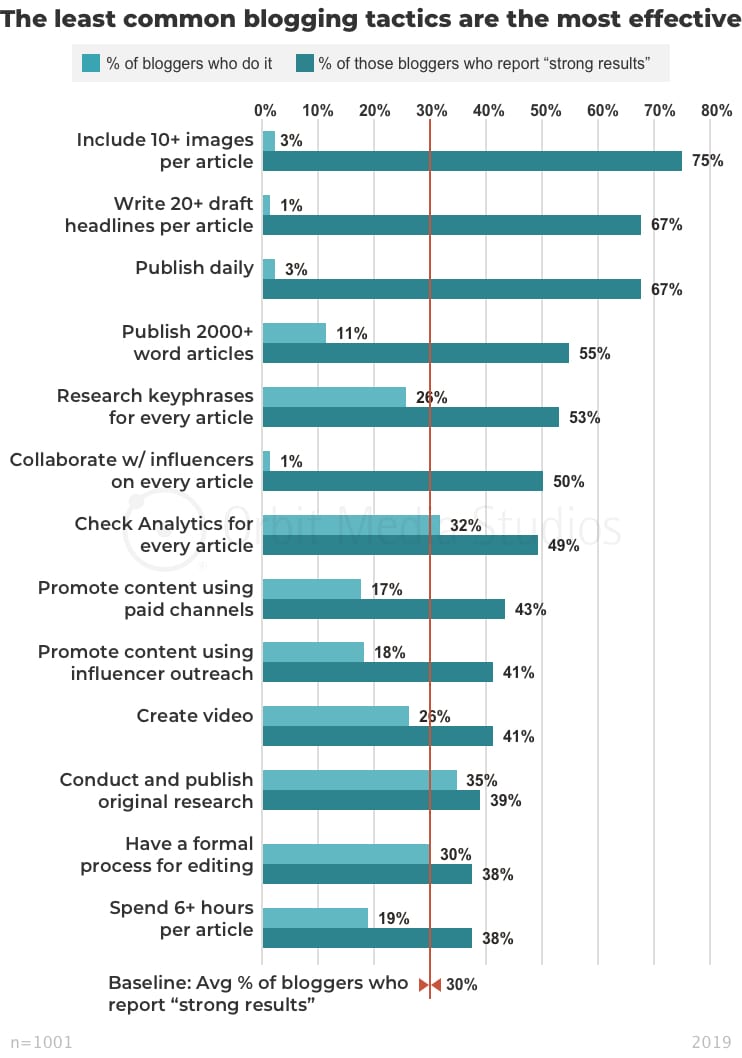 Tap into the power of Social Media
Since 95.9% of bloggers promote their blog posts via social media, this channel is next on the list. As a free marketing tool, social media is a great way to drive traffic to your site. Whether you use LinkedIn, Facebook, Instagram, or any other platform, creating engaging and useful content regularly will help you connect better with your target audience.
According to optinmonster.com, 59% of people share content without reading it first. So posting shareable content and including hashtags in your posts are two easy ways to increase discoverability, extend reach, and help you get noticed beyond your immediate network. Moreover, don't restrict your brand to one platform. Incorporating a couple of channels will create a greater active fan base.
Start a podcast
The next generation is into saving time and multitasking. So you need to prepare for what lies ahead. According to musicoomph.com, 24% of Americans (approx. 68 million people) listen to podcasts at least once a week. Podcasting is more popular among young people (18-44 Yrs), making them 67% of the total podcasting audience.
So it makes sense to start podcasting to support your online brand. It can drive a considerable amount of traffic to your site by building brand awareness and nurturing customer relationships.
Get active on Q&A platforms
People are constantly in search of answers to their never-ending questions. Posting on Q&A platforms is a great way to answer consumer questions and solve their problems. It also helps build your online reputation and trust in your brand.
However, it all depends on the platform you choose. Quora is a well-known Q&A platform that can help generate traffic to your site. According to Pareto's Principle, about 20% of these questions will actually send you traffic.
In order to gain visibility on Quora, you will need to:
Find the right questions
You need to find good questions related to your niche. But that means discovering what questions are getting the most traffic. Here, you can tap into the power of tools like Site Explorer and take an in-depth look at the organic search traffic of Quora. Answers you post here will also show up on Google. And that's how you can send more referral traffic to your site.
Use Quora Ads hack
By setting up an Ads account, you simply enter a keyword, and Quora will suggest questions you can answer as well as the number of weekly views.
Now it all comes down to how well you answer the questions. You need to write a compelling copy that people will want to read and then click upvote or share. So like any other content you create, it should be
Relevant
Provides value
Tells a story
Attention-grabbing
Interesting
Initiates an action
Here's how one individual nailed it:
Host contests and giveaways
Who doesn't like freebies, discounts, and samples! To garner more attention to your brand and keep customers coming back, you need to give them a reason to continue interacting with your site. Incorporating this strategy in your social media campaign is a cost-effective way to extend social reach.
According to outgrow.co, on average, about 34% of new customers are acquired through contests. But numbers can vary depending upon the industry and the social media platform. For instance, research shows that Instagram accounts that hold contests are able to grow followers 70% faster than accounts that don't.
The data collected while hosting a contest or giveaway can help boost marketing efforts later on. Moreover, with deeper insights about personal interests, brands can improve targeting efforts through personalization.
Get more visually attractive
When it comes to visual content, the sky's the limit. You can create videos, infographics, pictures, and much more. And they all help drive more traffic to your site. And we all know why that happens- people love visual content!
For example, studies claim that 79% of internet traffic was from video content by the end of last year. According to FunnelScience, landing pages with video lead to 800% more conversions, while 64% were more likely to purchase after viewing a video, said comScore.
Similarly, high-quality infographics offer vast amounts of information in bite-sized visual forms, and people are more likely to link to it. In fact, infographics have shown to increase web traffic by 12%, states a Demand Gen Report.
And finally, using photos of real people instead of stock photos increases conversions by 35% says thoughtleadershippartners.com. But you can also add a personal touch to content you upload on social media. Posting images and sharing visuals from your conferences can help highlight your company culture. Notice how Gary Vaynerchuk posts candid shots from his events and adds inspiring quotes to keep his followers' engagement high.
Final thoughts
A great website and a line of innovative products won't bring people to your online store. That is, not until they know who you are and what you have to offer. The challenge now lies in figuring out how to get traffic to your website.
As you've learned, it's only about Search Engine Optimization. You'll have to add more strategies to your current digital marketing mix and invest in traffic driving channels. From social media to blogging to incorporating more visual content, you need to do whatever it takes to get noticed in the competitive digital space.
Are you ready to rise above the noise?
We've touched only a few of the many ways you can get more traffic. There are countless more strategies you can use. If you have ideas that have helped improve traffic to your website, do share them with us in the comments section below.
Image source:
https://searchengineland.com/study-organic-search-drives-51-traffic-social-5-202063
https://www.orbitmedia.com/wp-content/uploads/2019/10/Blogger-summary-The-least-common-blogging-tactics-are-the-most-effective.jpg
https://www.hubspot.com/hs-fs/hubfs/Screen%20Shot%202020-05-16%20at%201.50.20%20PM.png?width=1346&name=Screen%20Shot%202020-05-16%20at%201.50.20%20PM.png
https://www.quora.com/Whats-the-best-way-to-get-backlinks/answer/Si-Quan-Ong%E2%80%912