As a consumer, I often notice how methodical my buying journey is. I detect a need for something, research about it, and then purchase it. It turns out all consumers go through the same cycle.  And brands are able to influence our buying behavior through specific types of content for each stage.
Here is the conventional consumer buying cycle that marketers consider when drafting their content creation strategy. 
It is said that consumers become aware of their need for a given product, develop an interest in finding a solution, consider different options, purchase the one they find the most suitable, expects it to be great post-purchase, and then re-purchases it if need be.
The content you deliver at each of these stages govern whether your brand makes its way from the awareness to the purchase stage.
 The Misconceptions: The Legitimacy of the Buying Cycle and Types of content
You don't believe that consumers go through these stages? Statistics show otherwise.
As per adWhite, over 90 percent of consumers first read online reviews about a product before purchasing it. Additionally, Salesforce reports that 50 percent of consumers switch brands if they don't continue to anticipate their needs.
This illustrates how most consumers act during the consideration and post-purchase stage. Targeting consumers throughout their buying cycle with unique content is highly beneficial for the brand. In fact, according to Campaign Monitor, segmented campaigns can boost revenue by 760 percent!
There are tons of myths people have in their minds regarding content marketing, but the biggest misconception is that content marketing is all about writing articles and creating infographics with the whole and sole purpose of getting links.
In reality, content marketing is an effort to engage people, and if you get successful in capturing users' attention through the uniqueness and quality of your content, links will naturally come your way as a byproduct.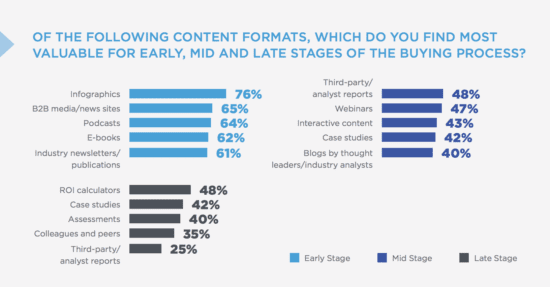 Not all content formats are the same. Nor do they have the same effect on consumers. Hence, it is imperative to use the types of content that work specifically for a given stage.
How to Create a Content Strategy for Each Stage
Before you worry about what are the different types of content you must create, it is much better to approach your strategy stage-wise.
Re-categorize the stages
The buyer journey can be clubbed together into three stages for businesses, attract, engage, and delight.
During the awareness and interest stage, a brand must strive to attract consumers. During their consideration and purchase stage, businesses must engage them with their products. And post-purchase, they must delight them to ensure high customer-lifetime value.
Within each stage, different types of content creation methods must be used to develop the desired effect on consumers.
The Attract Stage
During this stage, the objective of your content should be to create awareness about your product. Rather than informational posts revolving around your product, showcase how your business and services help solve your target audience's needs.
During the awareness and interest stage, consumers actively look for solutions to their problems. Hence, blogging, search engine marketing, and social media marketing are considered to be the perfect content types in this stage.
While I was promoting the link building services for SEtalks.com, I co-authored a detailed book with Venchito Tempon about creating an effective link building campaign for a business and how it can help a business get better visibility in search engines like Google.
This allows the user to learn more about building quality links and how links can help their business get better organic visibility in Google. For a person looking for improving their online visibility, my book has the type of information potential clients need. At the same time, they gain awareness about my services, without it seeming promotional.
This is just one of the various examples of the type of content that helps attract consumers during the initial stages of the buying journey.
The Engage Stage
Even if a given consumer is aware of your business, it doesn't mean that they will necessarily remember to consider it. After all, sometimes a long time passes between the awareness and the consideration stage. It often occurs that people forget about all the brands they came across during research.
So, how do you ensure that you make it to the consideration stage? By engaging them!
Here the types of content that work include email marketing, retargeting, and social media marketing. Here is an example of Uber's email marketing campaign that will ensure that consumers consider using its service when they need a commute mode.
Additionally, testimonials and reviews are imperative during the consideration and purchase stage. According to Oberlo, nine out of ten people peruse reviews before making a purchase.
A great way to proceed is by including testimonials of current customers in your social media efforts or writing case studies of your success stories.
The Delight Stage
This is the stage that was once overlooked by marketers. Previously, the consumer journey ended with the purchase of a product. However, now marketers understand the importance of the post-purchase behavior of brands in retaining long-lasting relationships with customers.
This, too, requires dedicated types of content marketing channels.
Here, live chatbot services integrated your website and social media accounts along with loyalty programs, and email marketing are some of the effective content categories.
For instance, an email marketing campaign can be used to thank new customers for choosing your product. Ambercrombie & Fitch does a great job of using this content type.
Additionally, to retain clients, it is imperative to make them feel rewarded. North Face uses a point system loyalty program to satisfy its customers. The content created for the campaign reflects exclusivity.
Ending Remarks
When you think about it, there are quite a lot of types of content out there. It can even seem overwhelming! Between blog posts, infographics, eBooks, ads, and emails, it can be challenging to pick a format.
This is why I find the buying cycle so helpful. By dividing the intention of consumers, it is much easier to decide which content type will work for them. I am positive that this method will help your brand develop a sound content strategy, just like it helped me!
Image source:
https://blog.hubspot.com/marketing/content-for-every-funnel-stage
https://www.persuasion-nation.com/blog/18-stunning-blogging-statistics-that-prove-why-blogging-is-important
https://mailbakery.com/blog/best-email-marketing-campaign-examples/
https://www.smartmail.io/resources/post-purchase-campaign