In today's digitalized world, starting a business and finding one is much easier.
Just a while ago, I found a budding business for waste recycling. But, when I went to their website for more information, it was quite abysmal. This made me realize the importance of having an impactful landing page for start-up ventures.
A web credibility research conducted by Kinesis Inc revealed that over 75 percent of people judge a business's credibility based on its website design.
Additionally, as per the United States Bureau of Labor Statistics, only 56 percent of startups survive after five years of starting operations.
Therefore, to ensure that a startup doesn't crumble because of a lack of customers and poor brand image, marketers must start by developing a great landing page for their business.
Aside from having the fundamental marketing plan, there are few more things that a website landing page should have in order to boost the interest of your visitors and motivate them to take desired actions, which may be subscribing to your website, share the word out, or more.
5 Ingredients for an Impactful Landing Page for Start-up
Here are the few important things that a start-up website's landing page should have in order to make their campaign break-free.
A Clear Value Proposition
One of the first challenges faced by startups is a lack of clarity among the target audience regarding their products and services. This is why you're the landing page for a start-up must clearly reflect the value proposition of the business.
What is a value proposition? Well, it is the primary value your business is delivering to customers. It answers the question of what you do and why consumers should choose you. On your landing page, your value proposition must be the first thing site visitors see.
Also, make sure to reduce it to a few lines to make it impactful. Here is an example of Trello.
Right from the bat, the brand tells you everything you would want to know. As a site visitor, here is what I understood from the few lines present on Trello.
The product: A tool for organizing tasks
Key Benefit: A one-stop solution for tracking your tasks and progress
Target Audience: People and businesses who wish to streamline their work
Differentiating Factor: A visual depiction of all information and tasks
Clean and Attractive Call to Action
At the end of the day, you don't just want site visitors to visit your website. Instead, you want them to perform a given action for the visit to be useful to you. This is where a call to action comes in.
You must clearly place the CTA button on the landing page that allows people to perform the desired action instead of getting distracted with lumps of information available on the same page.
Highlight it by using a different color than the rest of the template. Also, make sure to place it towards the start of the landing page.
Spotify is an excellent example to follow when it comes to designing a clean and attractive CTA.
When you arrive on the brand's landing page, you can clearly see that their main objective is to attract people who wish to sign up for a premium account. Apart from the headline, the distinguishing color of the premium CTA button is what makes it effective.
Align your website message with your offline promise
We are living in the era of inbound marketing, which clearly means that a user who is landing on your website can be the fruit of your off-page efforts, which can be a review, a guest post, or maybe a referral link of your website in a blog post or on in content on their website.
The idea is to understand the fact that they are coming through a source, so they already have drawn some image of yours in their mind before even landing on the page, and apparently, it is very critical to understand their expectations and align the website message according to their expectation.
This is where branding comes in. Whether it be your brand voice, message, or template, it should remain consistent both offline and online.
For instance, regardless of what platform you see Nike on, it uses a motivational and encouraging tone in its content. It also uses the same black and white template consistently.
Use Images Wisely
Images are great on the landing page in contrast with text, but there are certain rules that one should follow when using images on the landing page for the start-up.
Never use too large images on the page that eat up all the space for the text; instead, it's better to use images that can work as eye candy for users and encourage them to perform desired actions.
It is also important for an image to load quickly. According to Sweor, over 39 percent of site visitors stop engaging with sites that feature images that take too long to load.
Here is how Club W's images right below the header use a mix of visuals and negative space to help consumers see what they are purchasing.
Association with Big Fishes
Consumers tend to prefer products and businesses they are aware of. Trying something new is always hard. Here, showcasing your association with other known brands helps give your startup the credibility it needs to attract customers.
Brand validation gives visitors and users a comfort level that they are associating with someone who is directly or indirectly associated with the most trusted brands in the sphere. So, mention your prominent clients. If you are collaborating with known brands, make sure to add their logo (after seeking their permission).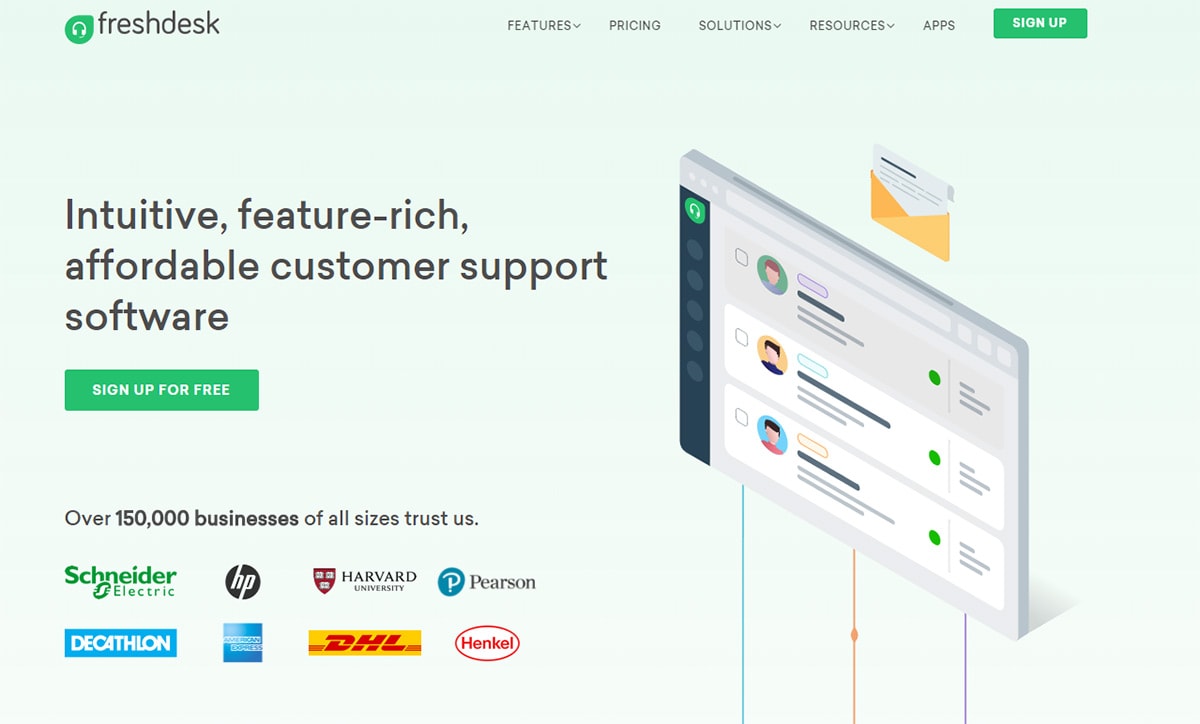 Freshdesk manages to do so flawlessly. See how it mentions its notable clients on the header without disrupting the user experience.
Parting Advice
Startups can find it quite challenging to survive. Certain aspects, like market conditions and user preferences, are not within the control of a business. But, there are certain factors businesses can work on. And developing a landing page for start-ups is one of them.
Follow these tips to create a great landing page. Let me know if it has a positive impact on your conversion rates!