64% of customers are influenced by the SEO optimized search results when deciding to purchase something from a business. They heavily rely on Google for the accurate information on local seo. Still, only 25 percent of companies use digital marketing tactics to enahnce the visibility of their website. Outrank and outsmart your competitors' business website by using professional Orlando SEO services.
SEtalks is home to Orlando SEO consultants for years. We, as a dedicated Orlando SEO company understand the unique landscape of Orlando's marketplace and deliver top SEO services for your business that reap long-lasting results. Get on board today and allow us to boost your Orlando company's online presence through SEO and be your right hand in setting your digital footprint via well-thought-out marketing plan and great SEO.
When you sign up For SEO With SETalks in Orlando, you receive:
MARKETING AND SEO PARTNERS WITH YEARS OF EXPERIENCE IN ORLANDO
We as Orlando SEO Company support each business in all aspects of their SEO marketing campaigns. We have been offering a listening ear and supportive shoulder to our client companies in Orlando for years to help them grow their local seo shooting like Jack's beanstalk.
GET UNDILUTED ATTENTION
Once we take up an seo project for a business , we take the time to guide, design and develop a good rapport with each client so that we have no communication issues during or after the execution of the SEO campaign. We collect maximum information about your business and your site. We solely work as per your requirements to put to you on map through top SEO!
DEDICATED PROFESSIONAL SEO TO GUIDE
We are here for assisting your business for any SEO related queries. From customer queries to comprehensive questions on management of the website and SEO, our marketing professionals are available for your assistance through the confusion. Whatever, information your business needs about our Orlando SEO process, we are here for you.
GET FREQUENT WORK UPDATES ON SEO
We make sure that our SEO clients are informed and updated throughout each phase of the search engine optimization (SEO) and marketing campaign for their business. Not only do we email published SEO reports per month, but we also provide an active number for further communication with our business so that when you need any information from us regarding Orlando SEO or otherwise, you get it upfront.
A year can do a lot – It can change your visibility game in Orlando through SEO
Improve your ROI and Site Conversion Through Setalks', All-IN-ONE Services.

Matt Janaway
"The biggest compliment I can give any digital marketing company is that I trust their work - and I trust Setalks profoundly! In a world where 99% of digital marketers think that spam is SEO, trust is difficult to build. But I can always trust Setalks to come up with something valuable."

Chase Hudges
"I spent over 24 months searching for a company that understood the complexities of white hat search engine optimization. Fortunately, I found Setalks. They were not only able to direct high-level strategy, but also implement it, yielding a tangible contribution to our bottom line."

Atif Sami
"Setalks comes up with these out-of-the-box strategies and problem solving. Nothing about this company is conventional, and that is what makes their work stand out. Through professionals, and true digital marketing experts."
These success stories can be yours
Make your site Google-loved by relying on our strategies
"HAVE YOU BEEN LOOKING FOR AN SEO AGENCY FOR YEARS THAT KNOWS WHAT NEEDS TO BE DONE? ARE YOU STILL MOURNING THE FINANCIAL LOSS INCURRED BY YOUR BUSINESS AT THE HANDS OF AN AMATEUR 'SEO-SPECIALIST'? YOU ANSWERED YES TO EITHER OF THOSE QUESTIONS THEN LO AND BEHOLD, THE ANSWER TO YOUR WOES IS HERE IN THE FORM OF SETALKS!"
Talk about SEO services
SEtalks is a leading provider. We are known to deliver significant results for your website. Partner with us and let our work speak for itself. We are:
Technically Savvy and Creative SEO & Content
We don't just know the technical aspect of SEO but has the creativity to develop fresh content that resonates well with the defined SEO guidelines to build your credibility from scratch and earn maximum clicks. From words to technical glitches, we embellish your site with the finest marketing accessories.
Result Oriented Local SEO Services in Orlando To Boost Your Page Rank On Google
Your customers love the word "nearby." This term makes them search in google, visit website and view profile of businesses. They will start loving your SEO service when they will find your name in the google search results of the local seo pack. We understand that your Orlando-based business needs local ranking. Our digital marketing specialists spend considerable effort to help you improve your local SERP.
Trustworthy SEO Facilities in Orlando
Our client's business portfolio speaks for us. We live up to our promises and deliver consistent SEO performance by offering customized solutions to each of our client's business and we also take care of our client's privacy.
Transparent
We believe in the adage 'honesty is the best policy.' This helps us achieve the highest summits in our long journey of search engine optimization (SEO) for some of the toughest challenges.
Dedicated SEO Efforts
When SETALKS signs up for a project, we make sure that it reaches completion without a frown on our foreheads or a wrinkle on your eyebrows. .
Discovering Your Business From an SEO Perspective
We dig deep into your industry, your website, and your competitors to understand your strength, weaknesses, opportunities, and threats.
Understanding the SEO Plus Points Of Your Competitor's Website
We believe that learning from your competitor's mistakes is an efficient method of improving search engine optimization for your website. This helps in saving resources in the process of trial and error.
Defining SEO Goals For Your Website and Map Out a Plan
After doing the SEO audit of your website, we simply create a custom content plan for your website. We decide what measures to take within local SEO, content creation, technical optimization, and off-site optimization.
Design a Keyword Strategy that Delivers
Keywords are the essence of a successful SEO campaign. Our seasoned marketing experts work smart to develop a fruitful keyword strategy that makes your customer search, visit website and leads to higher engagements along with better rates of conversion.
Implementing the Action Plan
We analyze and incorporate relevant keywords to boost your local and national ranking so that your website can thrive. We improve your site's code, structure and content to make it more search-engine friendly. Our creative writers develop appropriate content and manage backlinks to establish your reputation so you can see the results.
Monitoring and Tweaking Content and SEO strategy
Our pool of marketing and SEO consultants keeps a close eye on the health of the SEO campaign. This allows us to detect threats instantly and alter our plan accordingly.
Achieve lasting results with our comprehensive website optimization service
SEtalks delivers industry-busting results along with world-class service. As an established player in the SEO sector, we provide high SERP, conversion rates, and sales turnover through our thorough processes.
Still, wish to learn more about SEtalks' SEO services for Orlando businesses? Contact our SEO wing today and find out more!
What SETALKS Offer

The Orlando extension of our dynamic Search Engine Optimization (SEO) team with many years of hands on marketing and SEO experience has a realistic approach towards the fluid SEO needs of the post-modern society. We believe that the torch of success in today's fastidious world is found in the depths of subtlety.

We independently studied marketing tactics, consumer trends and the factors that influence consumer behavior to polish our search engine optimization (SEO). Whether it is the technical spectrum of building citations of a website or the aesthetic purposes of content creation and optimization, SEtalks is your confidante for all work related to the optimization of your website for major search engines like google. We support our SEO clients cash the visions in front of google they have always held dear.

SEtalks has a straightforward set of policies that have helped us grow stronger in our SEO missions through the roots and fruitful through the help of our services:

We ensure customer privacy that get them trust us
We make sure our client's business stay updated through each phase of the process of Search Engine Optimization (SEO) due to our vow of transparency.
We take pride in the well-established communication networks within and internationally to get information across everyone seeking our assistance.
Our arduous project management is a feather on our hat we cherish!

SETALKS enjoys helping companies blossom into digitally-driven commercial entities. We thrive on creating victorious SEO strategies for our audience from Orlando to get the best. After all, when will our knowledge plus information of local SEO trends and marketing services come to use?

Why do you need an Orlando-based SEO for your Business?

Empty promises are valued at zero, for your business and marketing efforts require customers to flourish with each passing month. In that case, you can always knock on the doors of an SEO company that has the valuable information and cumulative years of marketing services experience of two decades in the field of search engine optimization (SEO) and its best practices in Orlando. We make sure that your website optimization reaches the top of the Google Search Engine Results with the magic of the best website visibility-enhancing techniques available yet gets promising clicks on your site!

Search Engine Optimization (SEO) is not a mystery that requires the like of Sherlock Holmes to be solved. We believe that each client should be enlightened enough to understand the progress of their SEO campaign. This is why; we provide specific guidelines and maximum information on the services to get our Orlando SEO clients walk through the world of SEO without the clouds of confusion looming above their heads.

Essentially, SEtalks' Orlando seo service does not measure success in terms of rankings or traffic in search. Instead, we focus on increasing the number of clients for your business so that you get closer to your goals. This entails following a path that has been engineered by collecting insightful information of SEO to accomplish a challenging mission. Our Orlando-based campaigns are localized around the area to deliver brand new Orlando customers to your door.

We incorporate SEO into CRM systems to develop a seamless chain of commercial events that helps you breathe a sigh of relief as your clicks and conversions boost up for your business.

WE ARE HERE TO GUIDE YOU THROUGH EACH PHASE OF THE TEDIOUS SEO PROCESS. WE APPRECIATE YOUR QUESTIONS, QUERIES, AND CONCERNS REGARDING OUR SERVICES. SO LEAVE US A MESSAGE TO KNOW MORE ABOUT OUR ORLANDO SEO SERVICES RIGHT NOW!

What makes our SEO services your best match when it comes to Orlando SEO?

We are a seo company dedicated to ensuring success for each of our clients.With years of experience in seo services we have strived day in and day out to develop a fool-proof seo strategy that delivers excellent seo results at each step of the marketing ladder for your business website.

Starting from the comprehensive competitor seo analysis for your website, our Orlando SEO team signs up for efforts and services to be focused around your business. We dig deep into the rival's seo strategy design to avoid any mistakes on your end. Monthly seo analysis is drawn to develop a sound understanding of industry marketing trends before we move further with Search Engine Optimization (SEO). On the other hand, a simultaneous assessment is conducted on your current position in search engine(s). We compare the existing content, top rankings on google, and citations on your website to decipher the SEO loopholes that require professional seo assistance. We set goals to drive your search engine rankings up a few notches at a natural time span through SEO.

SETALKS is not afraid of being intrusive in the face of an SEO challenge. There is no page left unturned while we score your site for website visitor conversions and their interactions. This is precisely the session where the structure of your website and links pointing back to it is studied in the light of algorithms and updates endorsed by Google; the elements include Schema, Penguin, Panda, Pigeon, Hummingbird, and Google markup language.

Once we get a glimpse of your online listing, an SEO design mission is initiated to edit and update the current directory listings for better visibility. Our Orlando SEO team takes control of your Google Website Webmaster Tools Account to fix any existing errors and the generation of XML sitemaps and their respective updates for resubmission. We make sure that your website receives the attention it deserves from all major search engines like google. This assurance is only possible after mobile tests, website speed tests, and checks against Google penalties to run the website on optimum SEO performance. We don't rest until your website is an epitome of mobile-friendly practices and content.

We maintain the security of your website through regular tests and rigorous security checks to ensure that you are safe from any breaches or unsolicited attacks.

We work from dawn to dusk on every day of the month to manage your online reputation in the context of google and other search engines to build a positive image for you and your company. Once we take up an SEO project, we completely immerse ourselves into brainstorming and strategizing for improved rates of organic traffic and conversions for the optimization of your website. Our highly experienced wordsmiths spin magic through their keyboards to boost your search engine rankings. And in the end, we offer tracking and monitoring to help you transition towards independent handling without any fears.

If there is still something that needs our attention, then we are always happy to assist our esteemed clients. Feel free to get in touch with us today for a fruitful session!
ARE YOU LOOKING FOR SOME SEO-BASED ANSWERS? SIMPLY LOOK AT OUR FAQs TO GET THE INFORMATION YOU NEED RIGHT AWAY!
Our potion for eternal success in SEO in Orlando
The answer to this question is relatively simple. The sole reason why SETALKS has always been tremendously successful in this dynamic field is because of our approach to customization. Our seasoned SEO and marketing experts believe that tiptoeing around the grey areas of SEO practices is found in the portfolios of entry-level SEO officers.
Keeping this specific philosophy in mind has helped us move past the dated, traditional techniques of backhanded SEO. In the fastidious world of instantaneous changes in Google's algorithms on search engine optimization, it is necessary for a company to be mindful of their practices. Remember, the one-size-fits-all is no longer applicable to business, especially in the online realm.
We use our team's knowledge and experience to stay afloat in even some of the most testing waters. It is our policy to rethink the values we carry in the company's core which enables us to thrive in challenges and never compromise on the quality of our work.
WINNING BROWNIE POINTS IN THE BOOK OF GOOGLE IS ESSENTIAL TO YIELD FAVORABLE RESULTS FOR AN SEO CAMPAIGN. THIS IS WHY OUR TEAM IS ALWAYS FIXATED ON IMPROVING THE OVERALL SITE AND IMAGERY OF THE BUSINESS TO HELP YOU TRANSCEND TO THE TOP OF THE RESULTS.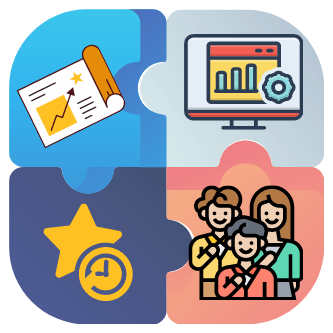 Frequently Asked Questions
Why should we choose your SEO Orlando services for Website and Marketing?
SEtalks offers customized SEO services to companies in Orlando, FL. We are well equipped to deal with SEO clients from an array of industries. For us, satisfying your specific Orlando SEO needs is our priority and we set our eyes on getting your website to the top. Choose us for a personalized and impactful experience for Orlando SEO that you won't forget for the years to come.
How will you improve my ranking in Orlando?
We will optimize your company's Google my Business page, manage your presence on local directories, and add local keywords to your content to boost the local reach of your business.
Can you get me the top spot on Google?
We cannot guarantee you to get top spot on Google. No one can. However, we do everything in our power to improve the rank of your pages from its current position.
Are citations important for a high rank in Orlando?
Yes! Citations are crucial for local SEO of your website. The more citations your content has, the higher Google will rank you.
What benefits can an Orlando SEO Agency deliver for My Website?
An Orlando SEO company can offer your business the brilliance achieved through experience. Our Orlando seo wing is trained for remote operations and has the solution to each problem. We strive to boost your visibility, improve your existing business positions, and also help you attract specific audience that is prepared to purchase your goods/service. We don't make blank claims! Your business can surely reap the perks of having our Orlando SEO wing onboard.
Tell us about your SEO services
SETALKS offers some of the most seamless SEO experiences to your business which shows results. We have a devoted team and an all-encompassing strategy that converts into ideal results. Our SEO services are globally acclaimed due to our high-quality practices including Orlando SEO. However, SEO isn't a magic trick that enhances your visibility within a few days. It's a long-term approach for your business – the sustainable way to climb the peak of visibility game.
Who is the best SEO Company?
The best SEO Company is the one who has made a name for themselves in the good books of Google: the God of Search engines. Search for companies that are aware of the frequent changes in the algorithm and have a sound understanding of customization in the elements of SEO. One such company that has the ideal personnel and specific culture is none other than SETALKS. Give us a call today!
What are SEO agencies?
SEO Companies are like the Genie in Aladdin's lamp. It is a company that helps you increase your website visibility on search engines so that your target audience starts finding you. The company engages in specific practices that aids in improving the ranking on major search engines including google so that you can have a sound rate of conversions and live with fulfillment! In this era, surviving without SEO is next to impossible as the giant companies go the extra mile to eat your market share. Many people see it as another expense for their website, but to be honest, it's the investment that offers you good returns and higher ranking in google in the long run.
How do I find a company's SEO?
In order to find a company's SEO, you will need professional assistance. Any SEO agency with the right tools will help you identify the specific SEO strategy of another company or competitors so that you can learn from them and get a fresh start, devoid of any grave errors in your own strategy.
What does SEO cost in the Present?
SEO is not worth an arm and a leg. In the digitally-driven era of the new millennium, investing in SEO is a crucial need that cannot be neglected at all. After all, businesses aim to be loved by Google. If you are looking for specific affordable Orlando SEO packages, that force customers to view profile of your business, then check our SETALKS Orlando today!
What is the best SEO Company?
The best SEO Company is the one that drives your company up on search engine results. It helps you achieve a higher number of conversions that translate to better revenues and improved brand image. Failure to avail the SEO opportunity equals eternal loss. This is why we suggest having a look at SETALKS Orlando right away!
Tell us about your project
Let us help you get your business online and grow it with passion
Testimonials
"The biggest compliment I can give any digital marketing company is that I trust their work - and I trust Setalks profoundly! In a world where 99% of digital marketers think that spam is SEO, trust is difficult to build. But I can always trust Setalks to come up with something valuable."

Matt Janaway

CEO Marketing Labs

"I spent over 24 months searching for a company that understood the complexities of white hat search engine optimization. Fortunately, I found Setalks. They were not only able to direct high-level strategy, but also implement it, yielding a tangible contribution to our bottom line."

Chase Hudges

Co-Founder Autoelo

"Setalks comes up with these out-of-the-box strategies and problem solving. Nothing about this company is conventional, and that is what makes their work stand out. Through professionals, and true digital marketing experts."

Atif Sami

TCS E-COM SERVICE

"Working with SETalks team has been amazing since day one! I have worked with them for over 3 years and we have seen continuous growth in our SEO initiates. They team is very easy to work with and they have been flexible to meet our reporting needs. I highly recommend working with SETalks."

Brian Pekarek

Salesmate